Intercom Systems
Control access to your home or business with our range of intercom systems. Modern, state-of-the-art and protective, they'll certainly enhance the level of security within your premises today.
Here at Apex Locksmiths, we offer an extensive variety of intercom systems. If you have a browse through the range now, you'll find everything from wired to wireless and from video to voice available. We also update our range continuously in order to cater towards every security need and budget size.
Shopping for quality intercom systems in Sydney has never been this easy. Our range is extensive, our service is unparalleled, and our knowledge is vast. Please call (02) 9569 4807 if you have any further questions regarding our products, services or more.
Choosing A Intercom Systems Sydney for a House or Apartment Building
Apartments can take different shapes and sizes, from single-bedroom townhouses to high-rise buildings in the heart of the bustling metropolis. Like any other household, however, each renter has a duty to preserve the cleanliness and security of the property. One way for apartment tenants to enjoy better security is to have the best intercom systems Sydney has to offer.
Securing your apartment building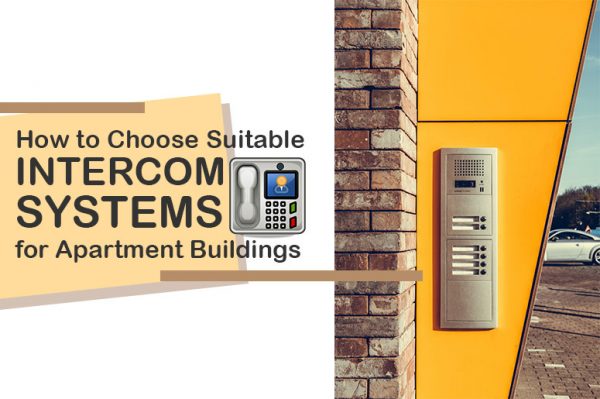 Owning an apartment often requires monitoring who goes in and out of the building. Especially if you live several floors up or in a completely different property.
For tenants, intercom systems Sydney help to establish communication with the person who wants to gain entry to the building. The best way to prevent theft is to limit access to only residents, friends, family members, service personnel, and delivery people.
An intercom system is also good for individuals with mobility problems as it eliminates the need to go up and down the stairs to check who's at the door. The system also works well with automated or card access control systems to further prevent security risks.
The best way to determine which systems to use for your apartment building is to conduct a thorough evaluation of the layout, including the entry and exit points. From this, you can decide if your apartment needs more than an intercom system to provide adequate security, such as security door locks, alarms, and more.
Intercom Systems and Access Control Systems in Sydney
It's amazing how different technologies today can work hand-in-hand to create a more robust ecosystem of security processes.
For instance, intercoms can now be integrated with access control systems that let you open, close, and lock gates. Some intercoms are also integrated with alarms or surveillance cameras.
Remote Controlled Systems
Some advanced systems can be operated from a smartphone or other mobile devices. If someone rings the door to your apartment, you can easily see who it is, talk to that person, and determine if he or she should.let be in.
This kind of smart technology tends to be expensive but offers plenty of advantages to you, the apartment owner, and the renters.
Having an intercom and access control system that can be operated remotely means you won't have to worry as much about going away on vacation or taking a business trip since you can always monitor what's going on in your building.
Having card access control systems is also beneficial if you're away. The only downside is you'll have to be diligent about restricting access or taking away the cards from renters who move out, otherwise, they'll still have access to the building.
What to look for in an intercom system for apartments
There are several convenient features to have for your intercom system. Among these features include hands-free operation, video monitoring, LCD and touchscreen display, and electronic lock release for the doors.
If you have a fairly large apartment complex, however, you may benefit from a more advanced intercom system, such as those with alarms and CCTV integration.
Contact a locksmith today about your apartment's security needs
Gone are the days when you're left to speculate about who is outside of your property. Intercom systems Sydney now make it possible for you to allow or deny access to individuals even while you're away. If you're still not sure about buying an intercom system, talk to one of our professional Sydney locksmiths here at APEX locksmiths, and we'll help you assess the security of your apartment and choose the right system that fits your needs and budget. Just call (02) 9569 4807.