Are you feeling safe in your own home? Are you sure that your loved ones are secure? Do you have a way to protect the property and possessions that mean so much to you? 
Home security should be at the top of everyone's priority list and it's always a good idea to take precautions to ensure the safety of your family by installing home security systems and home alarms.  
Luckily, Apex Locksmiths makes it easy for anyone who wants to secure their home with our home security systems and alarms. We offer a variety of options: from Home Security Systems to Residential Security Systems Supply & Fit.  
We know how important it is for our customers to feel safe in their own homes, so we make sure that every system we install is customised specifically for each customer based on their needs and budget. 
However, despite having a security system or intending to have one installed, you will never be completely at ease unless alarm monitoring is included. Just imagine how disheartened you'd be if you invested in a home security system, took the time to equip it before leaving each day, and then came home to find it ineffective. 
For this reason, Apex Locksmith strongly recommends the regular testing of home security systems. 
Home Security System Testing
Before checking your home security system, learning how to set your security system into test mode, it is recommended that you dial the number of your service provider. By placing your system into test mode, the signal supplied to the monitoring firm will be ignored, preventing any unnecessary dispatches of emergency workers. 
Next, you need to decide if you prefer to conduct a complete system test or a partial test to verify that the alarm system is sending signals. 
Complete Home Security System Test
It is recommended to test your security system by setting your alarm as though you are leaving your home. Then, we need to conduct thorough tests on every gadget. The best way to trick a motion detector is to walk in front of it while the windows and doors are open. After testing is complete, the system should be reset so the monitoring service can confirm that alarm signals were received from all devices.  
Partial Home Security System Test
A partial test is arming the security system as though you were leaving the house again, but this time setting off just one of the sensors. After making sure the selected device is working properly, you should contact your monitoring service to double-check that the alarm signal was successfully transmitted before resetting the system. Your alarm system's proper communication has been confirmed by this partial test. 
Home Security System Maintenance
A well-maintained security system is one of the best ways to protect your home and family. Keeping your system in good working order also helps to ensure that it will be effective when an emergency arises. 
Here are some tips for maintaining your home security system: 
Make sure all sensors are working correctly by testing them with a remote or on the app. If there are any issues, call us right away so we can fix them before anything happens!

 

Check your battery status on the app or remote regularly to make sure it isn't running low or dead. You don't want to find out when an intruder has already made their way into your house that there's no power source left!

 

Always keep at least one backup battery around in case of emergencies like power outages or other situations where there's no power available for charging devices like smartphones or tablets (which may need recharging at some point during a power outage).

 
How to Make Sure Your Home Security System is Set Up Properly
Even if you have a security system or plan to install one, you won't feel safe until you have it monitored. Imagine the disappointment of purchasing a home security system, taking the time to set it up before you left each day, and then coming home to find that it wasn't working. Here are some ways how to test your security system: 
1. Test the motion detectors on the doors and windows
Examine the automatic openers of all the windows and doors in the house. You may install these sensors in the soffits of your windows and doors to monitor who comes and goes. Motion detectors near unlocked doors should detect human activity. If you open the door, you'll set off the alarm. Put in motion detectors in every room you deem necessary. An alarm will go off if a window is broken. 
2. Verify the break-glass detectors
You should take a stroll around the house to test the glass-break sensors you've set up to see if they're still in good working order. When an attacker attempts to enter your home through a broken window, your glass-break sensors will alert you. Sensors that detect the frequency of breaking glass will sound an alarm. 
3. Smoke, heat, and carbon monoxide detectors should all be checked
Test your home's CO, smoke, and heat detectors. Early warning from these sensors allows you to escape a burning building. The fire department is notified by these sensors. Make that your home's fire, heat, and carbon monoxide alarms are working properly. Get rid of the old and replace it with the new. 
4. If you have any doubts, you should probably check the cameras
You should also double-check the functionality of your CCTV system. Keep in mind that your CCTV system can aid the police or fire department in determining what occurred at your property. Now you may install sensors even in the most vulnerable areas of your home. In the event that any component of the CCTV system appears corroded or otherwise worn, it may be time to replace it. 
5. Have a look at the settings
Your control panel is the final place to look. Make sure everything is properly configured and coded. Verify that your controller has both a power source and a telephone connected. Verify that the interface still responds as expected. 
When To Test Your Security Systems
As reassuring as it is to have a security system in place, it's still a good idea to test it on a regular basis. We want to ensure that each system we install, whether at a home or a business, is up to date and completely functional. Your security systems should be checked at least once a month. Manufacturers of anything from comprehensive security panels to doorbell cameras to smart locks to garage door openers to interior and outdoor video cameras and smoke alarms all advise monthly checks. 
When a home service specialist visits, test your security system. Any worker in your home can accidentally or intentionally disable your alarm system. After a technician leaves, test your alarm.

 

After home improvements, test your alarm system. Despite knowing your security system well, it's simple to destroy it accidentally. It's best to inspect your security system often to avoid discovering faults after an intruder enters your home.

Test your system after major phone or internet service modifications. Double-check anything that could affect your system's performance.

 
In some cases, more rigors testing can be necessary. When was the last time you suddenly checked your security system? If you've recently had maintenance staff on the premises of your home or business, it's a good idea to check the functionality of your security systems. They may not have meant to disrupt your system in any way, but their work may have accidentally triggered a safety mechanism due to a change in location or connection. However, Apex Locksmiths can assist you find out about this modification as soon as possible so that you can make the necessary adjustments. 
What To Look for When Buying a Security System
When it comes to protecting your home, a security system is a must. But if you don't know what to look for when buying a security system, you might end up with one that doesn't meet your needs—or one that costs too much. If you don't know what to look for, here are a few things to consider when buying a security system: 
1. Professional Installation
Decide if you want a professional or DIY security system installation. Some security systems require professional installation, while others may be set up in minutes.  
2. Connectivity, technology, and home automation features
Decide if your security system needs any specific technical characteristics. Do you want your video automatically stored in the cloud? Need home automation? Home automation lets you remotely control your camera, security system, and home from your computer, phone, or tablet. 
3. Types and features of cameras
Consider which home alarm system camera you want. First, decide how many cameras you need. Each room needs one? Is covering one or two key rooms enough? 
4. Wired or Wireless Security
Consider installing a wired or wireless security system. Wireless systems are easy to install, but wired systems require professional installation. Run wires and drill holes in your walls. Wireless systems are easier to install. Start faster and cheaper. 
5. Pay close attention to your budget
Compare pricing and budget before buying a security system. You can choose an option that matches your needs from the many available. Be aware that premium cameras, services, and features cost money. Consider all security camera functions. Some cameras contain backup batteries for power outages. These features let you remotely control lights, doors, and cameras. 
What Are the Best Home Security Alarms to Buy For Your Home
If you need assistance figuring out which security system will give your home the most protection, give Apex Locksmiths a call. We may also inspect your property and advise you on how to strengthen its physical defences if we find any flaws. 
But beyond that, you can be assured that you'll be working with a group of reliable experts who are well-versed in the latest home security systems. Have a look at some of the top-tier safety options we have for your house: 
Home intercom systems

 

Home security systems and accessories

 

Home safes

 

Garage door locks

 

Deadlocks for gates

 

Door closers, chains, bolt locks

 

Residential remote access systems

 

Residential lock systems

 

Panic exit devices

 

Lock alerts

 

Restricted key systems

 

Door viewers, and many more!

 
If any of your security devices need to be replaced or repaired, we can also quickly get to your location and deliver your expected results. 
Consider Your Home Security Options At Apex Locksmiths!
At Apex Locksmiths, we want you to be able to enjoy your home and the people in it without worry. We believe that everyone deserves a safe and secure environment where they can live their lives without having to worry about the potential for burglary or theft. 
We specialises in providing quality home security systems to all residents in Sydney. It doesn't matter whether you live in an apartment, building, unit or house, our team of licensed and qualified locksmiths can help you safely secure your home. 
With our team of professionals, you can stay focused on your daily activities without worrying about the security of your home and other properties. That's why we offer home security systems that are designed to protect both your property and the people inside of your home. Our expert technicians will take the time to create a custom solution that meets your needs and budgets while also ensuring that you have peace of mind knowing that your home is protected at all times. 
Don't wait another minute! Contact us now or call us on (02) 9569 4807 for a free consultation.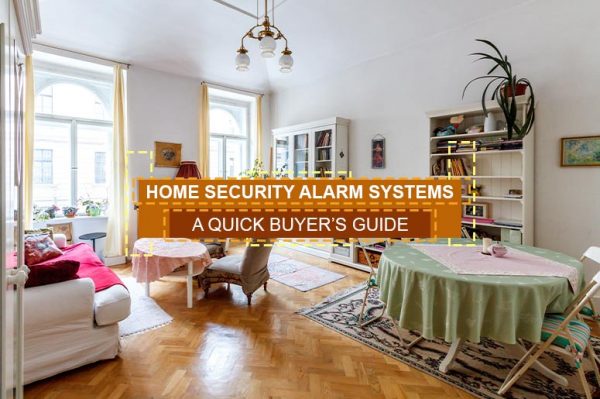 Are you feeling safe in your own home? Are you sure that your loved ones [...]